Why Have This Website?
The purpose of this website is to sort out my thoughts about things by inviting criticism, dialogue and the pressure of publication. All opinions expressed here are exactly that, and by no means are final. They also do not represent a judgement against any individual.
There isn't much more enjoyable than learning something new and applying it, so that is what I am doing here. If you want to join in on the conversation,
send me a message
.
Thank you for visiting.
Powered by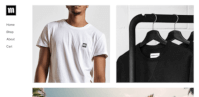 Create your own unique website with customizable templates.