In this article, I will analyze a recent article from the LA Times, titled "

Trump slams Russia probe and blames U.S. for bad relations with Putin as the two leaders meet.

" Click the link if you want to read it and follow along.

The article's title highlights two facts over all others. As we'll see, they aren't necessarily the facts that matter the most. I would say that it is far more important that Trump was criticized by Putin for pulling out of the Iran deal, and held his ground on the situation in Syria. Those are actually new things, you see...

...and using those for a headline might just cast things in a neutral, or even positive light. The press seems incapable of doing this. Counter-examples are welcome.

The article's text starts out with the usual assertion of "Russian interference" in our elections. What do our intel officials mean by "Russia" - what evidence, specifically, do they have to assert that it was Putin who gave the order or was at all involved?

Also, is it rhetorically smart to have a tug of war with Putin over this?

Trump is reported to have "slammed the special counsel's investigation…" But, it's not news that he would slam it; he's been railing against this from the start. This seems to be more about asserting his dominance than it is about being accurate.

The article continues to say that "president also blamed the United States for relations with Moscow that he said have "never been worse.""

What is wrong with taking responsibility for the state of relations, and asserting his will to correct them? This is actually a risky move, as the same intelligence community will be fully capable of returning a new verdict in the next election cycle. The question will be: is there more or less interference? Also, the general global policy analyst community will be able to weigh in on whether or not "relations" will have gotten better or worse throughout time.

The article states that Trump wishes the FBI investigation would be widened to include his political opponents. While I am not a fan of this kind of partisanship being brought into a discussion about national security and intelligence, I can understand his move as a political one. It makes sense that he'd do this. So what?

The statement following, from Dan Coats (Director of National Intelligence), is predictable: he reasserts that there is an ongoing threat by Russia to undermine our democracy. What that means in detail is subject to too much interpretation for me to really use as a meaningful statement for any purpose.

Putin offered "allowing U.S. investigators to interrogate the Russians who are under indictment" instead of extraditing them to the United States. That seems like a fair bargain, since I doubt we would extradite people to Russia regardless of whether they were part of our intelligence community or not. At least, I sure hope so.

When the press asks Trump to denounce "what Russia did" during the 2016 election, they are asking Trump to take a step backward in rhetorical relations. That is, they're asking him to dis Putin. What good could this do? Make some people feel good?

What isn't highlighted is that Putin complained about Trump withdrawing from the Iran nuclear deal. That's way down in the article, and I doubt it's getting any serious attention from the same people who claim Trump is Putin's puppet… cognitive dissonance avoidance?

Why didn't Trump bring up the dispute over Crimea? Again, this goes back to known quantities and public rhetoric. What rhetorical purpose would it serve to make Putin feel small in public? Does Trump deny this fact, or is he in favor of Russia's seizure of Crimea? They even admit that Trump raised the subject and maintained the view of NATO. He admitted that there is a point of disagreement here. So, what is the problem?

It would seem that those who are criticizing the President's style are more interested in hearing public cheerleading for their causes celeb than they are in getting things done.

The article continues to admit that, while officials in America and Europe feared that "Trump would agree to… effectively cede Syria…", they do not have any evidence to show that this prediction came true. Following this, the article quotes several people's comments - this is not news, it's gossip.

We already know that John Brennan, John McCain and Lindsey Graham have a different preference for rhetorical style in regards to Russia. People don't like the President's style. That's not news.

Let's be clear: Putin is a thug. He's been closely tied to things like the Olympic doping scandal, other nefarious and even murderous activity. We know this; it's a known quantity. What isn't known is how this will turn out, and we'll have to wait and see.

There are simply plenty of folks out there who would rather throw nonsense from the peanut gallery before the movie is over. Unlike Russia, we have a very solid election system and can vote in a new POTUS through that system next go-around.

If the American People wish to elect a new President, this performance will be a big part of that puzzle. The President is taking quite a gamble with his tactics here, as he took quite a gamble with his tactics in becoming President in the first place.

This all goes to show that we need less power in the office of the Presidency; it's almost as if limiting it according to the Constitution might be a good idea. We could start with trade, and we could look toward the founders for the wisdom of a more libertarian system in general.

This is something that we must confront: if we allow power to reside in a single individual such that they can "make our lives better", we are going to inevitably run into times when that same great power is used against us. That's why we need libertariansim, that's why we need a return to Constitutional governance.

That's also why we need a more disinterested press that's "free" from these ideological and self-imposed constraints. Until we get that, we're in for more of the same via articles like the one that I analyzed above.
Powered by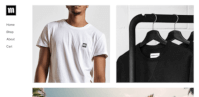 Create your own unique website with customizable templates.