The immigration debate was put back into center stage recently, due to reasons that themselves have become at the center of controversy. To summarize, the Trump Administration started to enforce the law strictly - calling the prosecution of all improper border crossings (which is anything not done through a port of entry) a "Zero Tolerance" policy. Branding aside, this is in line with Abraham Lincoln's view that "the best way to get a bad law repealed is to enforce it strictly."

Once this "Zero Tolerance" policy began, many people who previously would have simply been released back to Mexico were processed through our legal system at the border. This is a special kind of legal system, naturally, because the people being processed are not US Citizens. That doesn't mean morality goes out the window, but it does mean that detention is "indefinite" (although we have every incentive both morally and fiscally to process people quickly). Detention centers filled up, and families were being separated. This is where the big controversy really began. "The Media" took this chance to highlight what is truly a terrible situation for any human being - families being separated from their children.

Let the Hysteria Begin

I invited someone to a conversation about it. He declined, insisting there are only two ways to see the issue: either you are for separating children from their parents, or you are not... So much for civility, but that's been degrading for a while now. I'll come back to that later.

But for the legislature resisting doing its job, the system of law being executed and a population providing feedback worked quite well. Except for all the hysteria... and where did that come from?

"I've been losing sleep over the news..." - Redditer, commenting on

the drawing he or she posted

. The thread became so full of vitriol that it had to be locked. Whose examples are these people following?

The reporting has led many to believe that they live in a country run by evil people. Comparisons to Nazis are running rampant, while a cursory reading of the rise of the Third Reich would reveal that recent leftist tactics of public harassment to be closer to the brown shirt tactics than anything coming out of even the alt-right. Debatable, and I welcome anyone to discuss that topic. Because like most things, it is very complicated.

The border issue is complicated as well. There is a lot to consider, and it can get emotional very easily. People are looking for a better life, many of whom are escaping truly horrible circumstances. Those who are seeking asylum have a legal process by which to do so. Those who are not informed about the process of legally entering our country will be subject to the law - and I would hope that those with a legitimate asylum claim get where they need to go. That said, there are people who use false claims of asylum to try and get to the head of the line.

​I have an opinion about our immigration system in general that I will post about at a later date, however for now it suffices to say that we need to create a fast track for people who just want to work. I think most reasonable people would agree that, if someone foregoes any citizenship or government benefits, good honest workers are a net benefit. That said, this whole situation is getting out of control - not because it is impossible to talk about, but because people are refusing to do so.

Battle Tactics Will Lead To Battle
While the tactics that took place in the Weimar Republic involved physical violence, it is not very far from what is happening here and violent showdowns. All you have to add is some right wingers in the vicinity, and you have a powder keg. Here is a quick run-down (credit to Get Off My Lawn for gathering these):

All this activity culminates in the most recent

public statement made by Congressman Maxine Waters

. Her calls for harassment are another reason I made my prediction 50% that someone in the administration or a Republican congressman would be seriously injured by the end of July. It is a terrible idea, and yet it is highly probable. Just over one year ago, a

Bernie Sanders supporter attempted to kill Republican members of congress

who were enjoying a baseball game.

I wouldn't place blame on Maxine Waters, as I didn't place blame on Bernie Sanders. Their rhetoric is dangerous and irresponsible, but it is not an explicit call for violence. Unfortunately, that is just about all it takes for a crazy person to get the idea that they are serving a higher purpose as they pull the trigger.

Conclusion: Back to Reality

There is no doubt that we have a messy situation at our border that needs to be sorted out. However we also have to get our house in order. Decent people must start demanding an end to the emotional manipulation, or the situation will continue to get worse. Liberals have to police their own, and some of them are already doing so.

Senator Chuck Schumer condemned Maxine Waters' comments

, for instance. However the majority still looks to be on the side of violent tendencies.

The situation is far from catastrophic, but continual maintenance is required in order to keep the engine of liberty running. Order is not natural or spontaneous; it arises from specific people and ideas coming together.

This didn't have to be this way. We can do so, so much better. Here is my proposal:

1. Increase funding for ICE, with some earmarked specifically for child custody services

2. Give permission to parents or guardians who are caught breaking the law to decide what happens with their children while they are held in custody

3. Build a wall so that there is less of an issue in the first place

That is one starting point. Blaming the current administration makes no sense, getting hysterical makes no sense, and doing nothing is not an option. If you have another idea,

I'd love to hear it

.
Powered by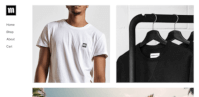 Create your own unique website with customizable templates.