These ideas are at the core of my beliefs. Subject to question? Absolutely.
---
Speaking truthfully is the most important thing you can do
Truthful speech does not mean naiively blurting every thought that comes to your head, or even telling someone a statement that matches up with reality. It means communicating to the truth of the world, which includes the truth that innocent beings ought not to be harmed. This is revealed in the hypothetical of someone coming to your door to ask if they can hide, you say "yes" and later someone looking to kill them asks where they are... a silly interpretation of "speak truthfully" would be that you have to now tell this person the reality. But that isn't the truth - because the greater truth is that the person you are hiding does not deserve to die, so far as you know, and also that you want to have no part in any conflict between them.
---
Cause Owns Effect
This idea sprung from the attempt to reconcile the concept "cause and effect" with the idea of "ownership"

---
the core concepts in action ->
Powered by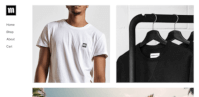 Create your own unique website with customizable templates.